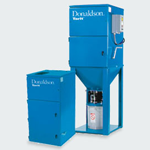 DUST, FUME, MIST COLLECTION.
DONALDSON DUST COLLECTORS.
Exactly What You Need. No matter your industrial filtration requirements, we have the right solution for you. The broadest selection of collector systems, industry-leading filter technology and our Ready 2 Ship program—all working to support your business objectives. We help keep your operation running at its peak.